Atletico Madrid vs Getafe SAT, 21 MAR 2015, 16:00
Info
Atletico Madrid vs Getafe played: SAT, 21 MAR 2015, 16:00, Vicente Calderon

Please remember:
* The final date and time are confirmed 4-10 days prior to the match date. If in doubt please check the club website.
* You will NEVER get any single seats. You will always get seats next to your friends, right in front or right behind your friends if you book together. This is our guarantee from us to you!
* You will always be seated amongst the home supporters.
* You need to print the booking confirmation we send to you by e-mail, and bring a copy with you to Madrid. If you have tickets for Real Madrid, you need to exchange the booking confirmation for your match tickets at our local agent in the centre of Madrid. If you have tickets for Atletico Madrid you will need to exchange the booking confirmation fo your match tickets at their stadium, Vincente Calderon. The opening hours and all the relevant details will be clearly stated on the booking confirmation.
* Please, read the following Terms and conditions carefully, before you complete your booking.

Below you can see more about the seating and categories you can book for your football match.
From £ 75
Category
CATEGORY LONGSIDE : Are both on main stand (touchline) and behind the goal – The light blue area on the arena plan!
CATEGORY SHORTSIDE : Behind the goal – The dark blue area on the arena plan. NB: Some of the seats in this category have restricted view, and all of the seats are high up in the stadium.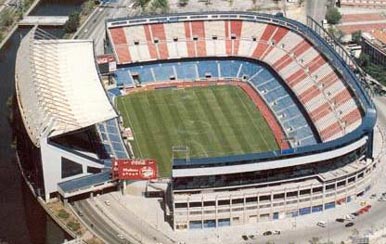 Arenainfo
Vicente Calderon
Capacity
57.000
Address
Paseo Virgen del Puerto 67,
28005 Madrid
Spain


View map
Metro
Line 5 (station 'Pirámides')
Busses
17, 18, 23, 34, 35, 36, 50, 116, 118 & 119.
The season is over. Tickets for next season will be on sale in June–. Please check the website for details.